KERN CUSOS - Customized Solution Service
Precise measuring technology and custom solutions for individual weighing systems ― ideal for balance manufacturers, logistics specialists and automation businesses.
Powerful balances and efficient weighing systems which support you in your work, should be adapted to your individual requirements. Standard models are therefore not sufficient under some circumstances. For this reason, at KERN it is our pleasure to work with you to develop a solution which is appropriate and tailor-made for you. From a range of platform sizes through to personalised weighing systems within large production plants, we can provide the right measuring technology. Through close collaboration with your engineers and users, we first check the special requirements for your application. Using this data we will put together the appropriate platform scale, floor scale or a completely personalised weighing system for you, to fit your requirements perfectly.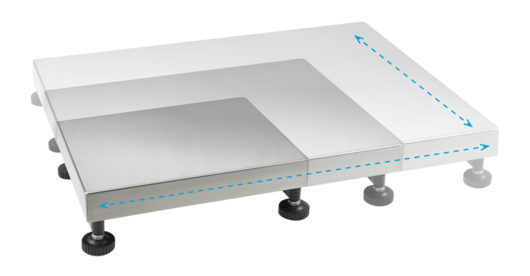 Choose from a wide range of display devices. Economical and lightweight (plastic version), robust and water-resistant (stainless steel version), with numeric key pad, battery or mains operation or the most varied interfaces.
Load cells to construct automatic weighing systems such as filling or dosing systems, such as might be used, for example, in manufacturing or filling processes in the chemical industry, construction industry, mineral industry, etc. On many occasions, load cells are also used in the construction of checkweighers or for installation into packaging machines of any type in the food industry.
The weighing data can be forwarded to peripheral devices such as signal lamps, printers and laptops or be used to switch valves, or similar devices.
Just tell us the size and the material you want for your platform and other essential construction details – done! We'll take care of the implementation.